World-Class Lean Six Sigma Training at an Affordable Price
GoLeanSixSigma.com's Online Lean Six Sigma Training is the most practical, easy to understand and accessible way to learn and apply Lean Six Sigma. Advance your career and/or transform your organization with the most effective Yellow Belt and Green Belt Training available.
Our online training courses have been developed and are continuously improved to meet today's changing business environments by deeply experienced, highly successful Lean Six Sigma experts.
With over 20 years of experience saving organizations in virtually every industry billions of dollars, our online training draws on what our experts practice every day in the field to provide you with the most effective way to learn and implement Lean Six Sigma.
---
We're Proud To Be Trusted By People From
Organizations All Over The World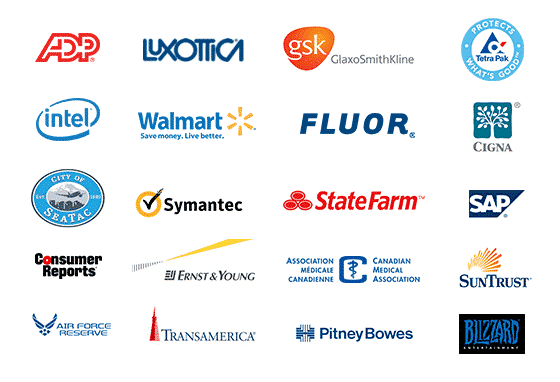 Check out reviews on our Yellow Belt Training from LinkedIn.
---
Why Choose GoLeanSixSigma.com's Online Training?
Save time with our optimized online training.

We save you time and money with our optimized training by teaching you only what's valuable to you with content developed by some of the best instructors in the world. Our training is for anyone from the challenge-seeking high school student to the experienced business professional.

Have fun while learning.

Our lively, colorful, interactive environment makes learning fun, keeps you engaged and helps you retain knowledge more effectively. Learning doesn't need to be a bore. We bring learning to life.

All the support you need to get Certified.

A friendly, knowledgable, responsive support team is available to you online, 24 hours a day. We're all you'll need to become a Certified Yellow Belt, Green Belt or Black Belt!
---
People Love Our Training!
"A simple, no fuss approach to learning Lean Six Sigma."

"The real world examples accompanied by a great lecture and visuals made this training fun, entertaining,
and most importantly, educational."

"GoLeanSixSigma.com's online Yellow Belt training provided me an easy to follow introduction to Lean Six Sigma, as well as many useful hints and tips I feel would benefit my workplace."

"A  systematic, step-by-step guide with all terms clearly explained."

"Training has clear voice overs, great materials (including notes) and simple activities and Q&A to test understanding of the topics."

"Training was speedy, easy and convenient."

"Their training self-paced and online so you can take all the time you need."
---
GoLeanSixSigma.com Online Training Courses

GoLeanSixSigma.com's Online Lean Six Sigma Yellow Belt Training is the most practical, easy to understand introduction to the basic concepts and tools of Lean Six Sigma.

GoLeanSixSigma.com's Online Lean Six Sigma Green Belt Training is the most practical, easy to understand way to learn and begin applying Lean Six Sigma.
Green Belt Training Duration: ~24 hours (3 days, 3 CEUs / 8 PDUs)
Green Belt Training & Certification Cost: $750
---
What's Next?